Modules Offer:
Up to 3 mpg fuel savings
In-cab adjustable switch
To the ground stock, 30, 60, & 90 more HP for light-duty & stock, 10, 20, & 30% increased for medium-duty modules
Keep EGTs at safe levels
A Lifetime Warranty!
Our Product Offers:
A lifetime warranty
Up to 35% more horsepower
Quick installation and removal
Fuel savings
30-day satisfaction guarantee
Quality design & features
What is Agricultural Diesel Solutions?
It is a solution to the farmer's need for more power to get the job done while using less fuel.
Call Jim at 217-251-2111
for pricing and ordering.
Illinois ST-587 Equipment Exemption Certificate (PDF)
Why is Agricultural Diesel Solutions the Best Choice?

Having worked with many other producers of Ag modules, we know their capabilities… we also know their limitations. We have listened to customers and know their concerns and disappointments with other brands. We do not rely on outside testing by other sources. We have our own engineering and testing team. We have the solution and the knowledge. WE know the equipment and fuel systems used on them. We have the ability to make changes in programming to meet any special needs of our customers.
Keep Movin' Forward with up to 35% adjustable Horsepower Increase! Increased fuel economy, lower emmisions and a lifetime warranty! Want to cover more acres per hour? Pull larger implements? Then try our easy to install performance enhancing module!
Let's Get Technical

Agricultural Diesel Solutions is committed to taking the extra steps, not short cuts, to create a module that is the solution to your needs.
All components are 100% Factory Inspected and functionally tested prior to final assembly. The module has a sealed design to protect against non-uniform temperature gradients, humidity, corrosion, and vibration.
Only electronic components meeting "industrial" temperature performance are utilized in our module. In many cases, military spec components are used. Electronic design methodologies, technologies, and components are selected to achieve minimal susceptibility to voltage spikes and glitches induced by environmental electromagnetic interference (EMI) and severe-duty environments.

All electrical connections between circuit boards,  switches and wire harnesses are directly soldered, eliminating potential corrosion-induced high-impedance connections, like opens, shorts, and partial or intermittent connections.
Electronics are "potted" in a slow-cure epoxy compound. All selector switches which are not "potted" are of an inherently sealed design.
With a plug and play module design, there is no cutting or splicing to connect. Truck Edition modules only use quality factory connectors. The electronics are "potted" in a slow-cure epoxy compound.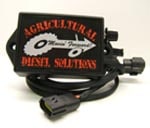 Agricultural Diesel Solutions
Modules available for:
AGCO
Apache
CASE
CAT
Challenger
Claas-Lexion
Hagie
Kubota
JCB
John Deere
Massey-Ferguson
McCormick
Miller
New Holland
Predator
Valtra
Versatile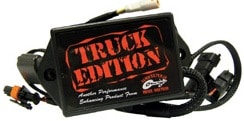 Truck Edition
Modules available for:
CAT
Chevy
Cummins
Detroit
Dodge
Ford
GM
International
JEEP
Mack
Mercedes
Volkswagen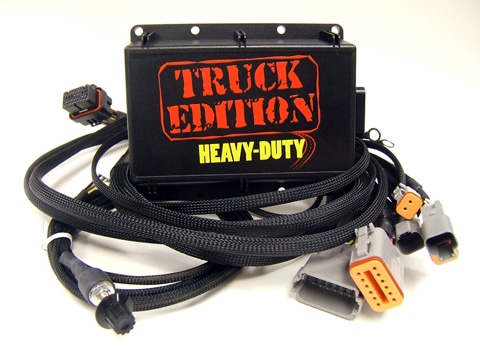 Truck Edition
Heavy Duty
Modules available for:
Along with our 30-day, money-back, satisfaction-guaranteed trial, Truck Edition modules also offer complete customer reassurance with a Lifetime Warranty!